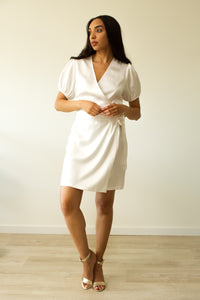 Whether its a lavish brunch with your girlsquad or for a cool, romantic evening, this offf-white satin wrap dress makes it the perfect wear for just any hour of the day, YOU decide! The drapey satin that accentuates the waistline and slightly puffed sleeves, is something you want to wear forever.
Size Guide is available HERE. 
*Shipping within 1-2 business days. For more information, click HERE. 
COMPOSITION & MAINTENANCE
Composition: 100% high quality viscose satin
Washing / Care: Cold wash, gentle spin (do not tumble dry)